I really want to do more good deeds this holiday season. Having Monkey when I was told I probably wouldn't be able to have children has made me so incredibly grateful, and I really want to do something for others. The problem? Monkey is here,
Ben
works, and we don't want to pay a babysitter. So I've been looking around online to see if there's anything I can do for others that I am capable of (i.e. not volunteering time, or having to go anywhere crazy to complete it....Monkey is still learning that he can't always be the center of attention).
What have I found? That I can crochet/craft for others. I'm always working on something, but I don't want it all around my house. Plus I can do this while interacting with Monkey, or when he's napping. It's on my time, my way. And the best part? I can do these things year round.
If you haven't seen my craft blog, please check it out. It's called
Creations A La Mode
and it's just a log of the crafts I make...some I sell, some I'm just plain proud of, and there are some tutorials.
Here are a couple of organizations I have found that I'm going to try to contribute to:
Mitten Commitment
: This is a project hoping to help those who do not have warm clothing, specifically mittens, for the winter. It's super easy to become a participant! You make mittens (crochet, knit, sewn, whatever) and send them in. Any style, any size! This is great for me because it gives me a way to try new things (I've only made one pair of mittens for a friend, but I would love to try more!)
Project Linus
: This organization accepts blankets for children who are seriously ill, traumatized, or otherwise in need. They have chapters all over the US that you can donate items to, all you have to do is make a blanket (any style, any size), find a local chapter, and donate!
The Hat Box Foundation
: Once again, very easy. This organization accepts knit and crocheted hats of all shapes and sizes for cancer survivors and patients across the country. You make them and send them in...that's it! I love this one especially since my grandmother is a breast cancer survivor.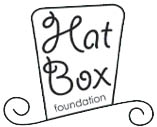 There are a TON of great craft charities out there, you just have to look! I look for national ones, or at least organizations that almost always have a chapter in multiple locations in multiple states, since we move so much. I would hate to become attached to a charity and then move somewhere that I couldn't contribute anymore!
I think this would be a great way for me to consistently give back as well...if I could do one or two things a month, I would be happy. It would probably be more if I only did hats, but if I want to do blankets as well then I have to keep it realistic!